FASB Issues New Standard on Financial Reporting of Leases
The Financial Accounting Standards Board (FASB) has issued a new Accounting Standards Update (ASU) intended to improve financial reporting about leasing transactions, which affects all companies and other organizations that lease assets such as real estate, airplanes, and manufacturing equipment.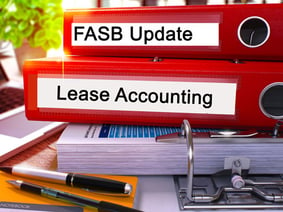 According to the FASB project site, the new guidance, ASU No. 2016-02, Leases (Topic 842), is intended to accomplish the following objectives:
Results in a more faithful representation of the rights and obligations arising from leases by requiring lessees to recognize the lease assets and lease liabilities that arise from leases in the statement of financial position and to disclose qualitative and quantitative information about lease transactions, such as information about variable lease payments and options to renew and terminate leases
Results in fewer opportunities for organizations to structure leasing transactions to achieve a particular accounting outcome on the statement of financial position
Improves understanding and comparability of lessees' financial commitments regardless of the manner they choose to finance the assets used in their businesses
Aligns lessor accounting and sale and leaseback transactions guidance more closely to comparable guidance in Topic 606, Revenue from Contracts with Customers, and Topic 610, Other Income
Provides users of financial statements with additional information about lessors' leasing activities and lessors' exposure to credit and asset risk as a result of leasing
Clarifies the definition of a lease to address practice issues that were raised about the previous definition of a lease and to align the concept of control, as it is used in the definition of a lease, more closely with the control principle in both Topic 606, and Topic 810, Consolidation
Read the related IASB information in the detailed IFRS 16 Project Status here.

Related News: At the upcoming SAP Insider Financials2016 (March 15-18 in Las Vegas, NV), Bramasol and Nakisa will be announcing a strategic partnership to provide companies with the technical enablement and consulting guidance to comply with the new FASB and IASB regulations.  Come hear how these two leaders will be combining forces to bring you a complete leasing solution for your SAP Enterprise Management platform. SAP Insider: Tuesday, Mar. 16 at 1:30 PM, Rm 107. Add to your schedule.
For more info on how the new FASB lease accounting standard may impact your company, click below for a RevRec Consultation.